Here's Our Tip Of The Day…
Could this be any easier? To get rid of odors, drop in a cut-up lemon,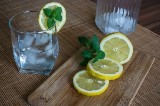 some salt and a few ice cubes. The lemon deodorizes, and the ice and salt clean away residue. 
Another option: Save some lemon, salt and ice cubes for some lemonade (or a margarita) while you're dialing Pro Skill to do your cleaning for you!